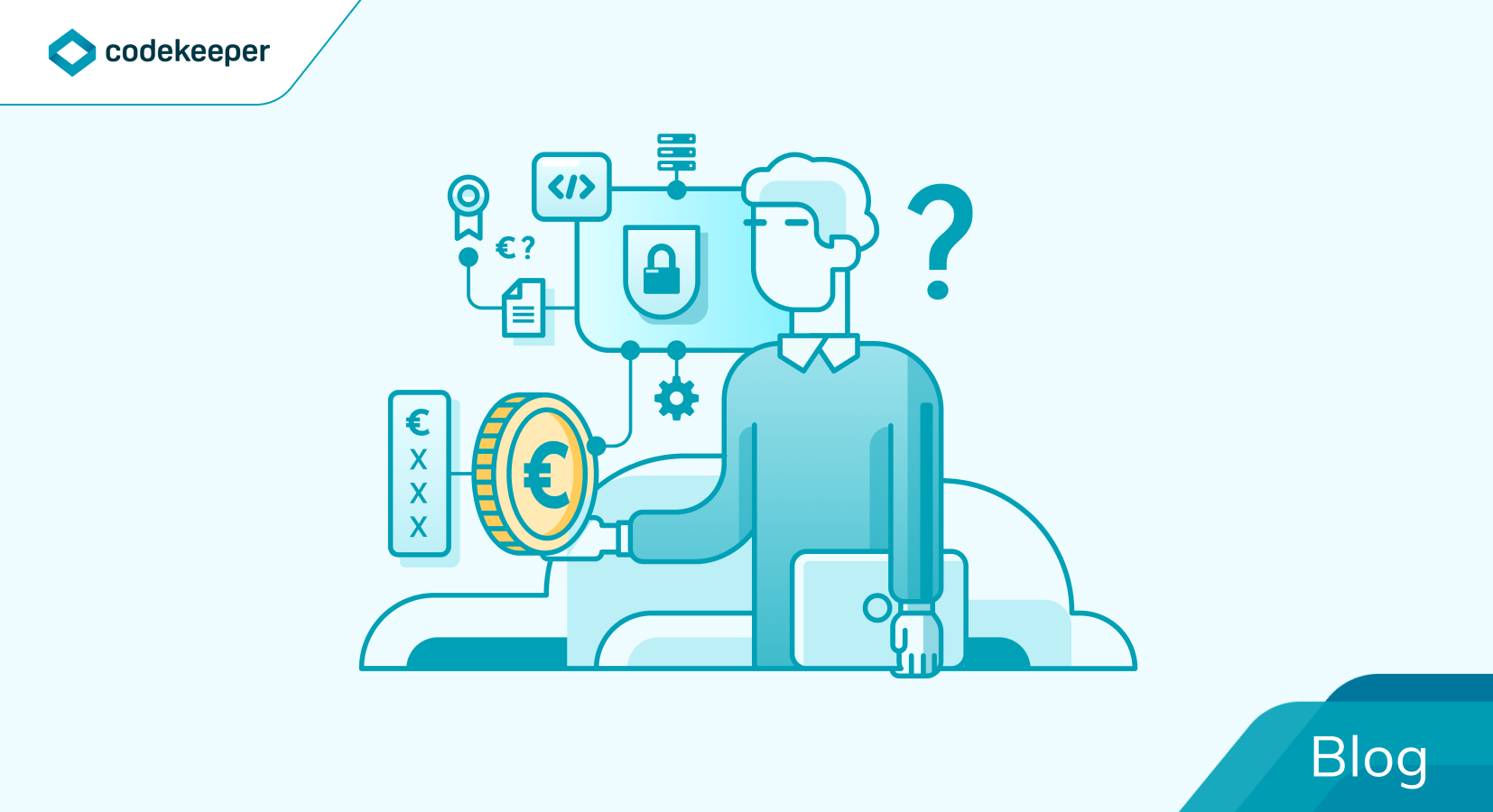 Although software escrows have been used since the 1970s, they are becoming increasingly more common and necessary as a practice for modern enterprises. As a result, there are a number of software escrow solutions on the market today, and some of them have been around for decades.
However, not all software escrow providers offer the same services, the same level of quality and security, and the same ease of use. And then there's pricing, of course, which is an important aspect in and of itself.
So whether you're a licensor or licensee on the hunt for your next software escrow, it's important that you examine all of these factors to be able to choose a solution that meets your needs while providing top-notch security and flexibility.
Codekeeper, in particular, was born out of a need for source code escrow that is simple to set up and use, fully automated and integrated into developer workflows, and last but not least, transparent and fair with pricing.
In this article, we will consider the current situation in the software escrow market both in terms of use and pricing. We will also look into how Codekeeper's modern automation technology allows us to offer a superior service at a much lower price when compared to other providers on the market.

---
What is software escrow used for?
---
---
Source code or software escrow is an agreement set up between a software vendor or developer (depositor or licensor), the client (beneficiary or licensee), and a trusted third party (escrow agent). In particular, software escrow puts a contractual obligation on the software vendor to store, with a trusted escrow agent, all source code, data, documentation, or anything else that would enable the beneficiary to update or maintain the software.
It is most often used when a company (licensee) wants to protect its software from unexpected events, such as their software developer (licensor) discontinuing support for their software, running out of business, or breaching their contract. As such, source code escrow is also becoming an important aspect of

enterprise risk management (ERM)

processes for a growing number of organizations.
From the perspective of a small start-up that provides the software, source code escrow levels the playing field and engenders trust. This is why a number of software vendors get ahead of it by establishing an agreement with a reliable escrow agent. This puts them in a position to use escrow as "the great sales enabler" by eliminating risk for their clients.
Tip:
If you want to learn more about what a software or source code escrow is, how it's used, and how it might benefit your company, check out

this guide

for everything you need to know to get started.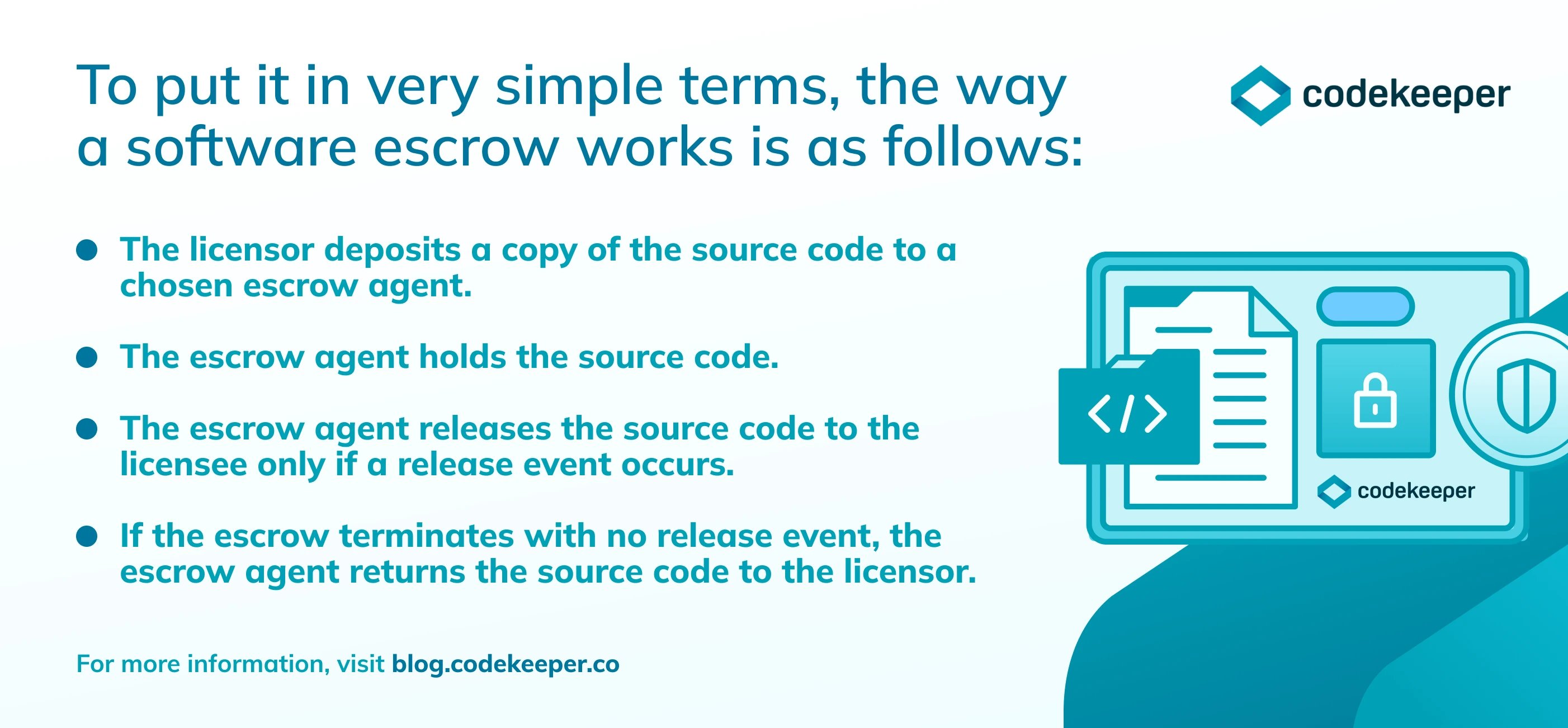 ---
Who pays for software escrow?
The question of who should pay the escrow fees—the licensor or the licensee—has no right or wrong answer, and there is no preferred standard practice.
On the one hand, there are certainly quite a few instances when the licensee pays the escrow agent directly. However, for the most part, it's actually the licensor who is responsible for payment of escrow fees. This is something that is often considered an expected cost of running a licensing business.
But even though the licensor may pay the fees, the licensee ultimately often reimburses the licensor. Alternatively, they may even pay a greater fee to the licensor at the outset to cover both escrow fees and the licensor's administrative expenses.
What this means for software developers is that it's always a good policy to offer the option of escrowing software for an additional escrow fee early on, when your license and other fees are first disclosed to a new client. This way, you can make it clear to your prospective client that, if they want to escrow the software, they will be required to pay for it.

---
How much should I pay for software escrow?
With traditional software escrow providers, you can expect a high start-up fee and a high annual rate upfront. In addition to that, they charge thousands of dollars for each contract and hundreds of dollars for each deposit. And more often than not, they charge additional fees for manual deposits, legal fees, and the list goes on. This approach to software escrow is not only inflexible, but it's also archaic.
The following message—that Codekeeper CEO Danny recently got from a client who's on the market for a new source code escrow—shows how drastic the price difference between Codekeeper and other providers is:
Hello Danny,
Thanks for the demo and all the information you shared during our call yesterday.
We have narrowed down our search for a new source code escrow solution to Codekeeper and [company name redacted].
I can't help but notice that your prices are much lower than theirs. For example, they charge more than $1,000 per year for one beneficiary, so 30 would run us between $30,000 – $35,000 per year. That's compared to the $3,120 you charge for your Business plan, which also comes with 30 beneficiaries.
And when it comes to source code verification, they charge roughly $9,000 – $10,000 per verification (+expenses) while you only charge maybe a quarter of that.
I wonder how you're able to offer such pricing and whether [company name redacted] is including some services that are missing in your offer?
Looking forward to hearing from you soon.
[client name redacted]
We get questions like this frequently. Prospective customers come to us wondering how we are able to offer such competitive pricing. Others, like the client in the example above, were led to wonder whether lower prices necessarily mean fewer services or lower-quality services.
The demands of today's market require a modern software escrow solution that is reliable, integrated, automated, easy-to-use, and priced fairly. This is what makes Codekeeper the market leader both in terms of price and technology.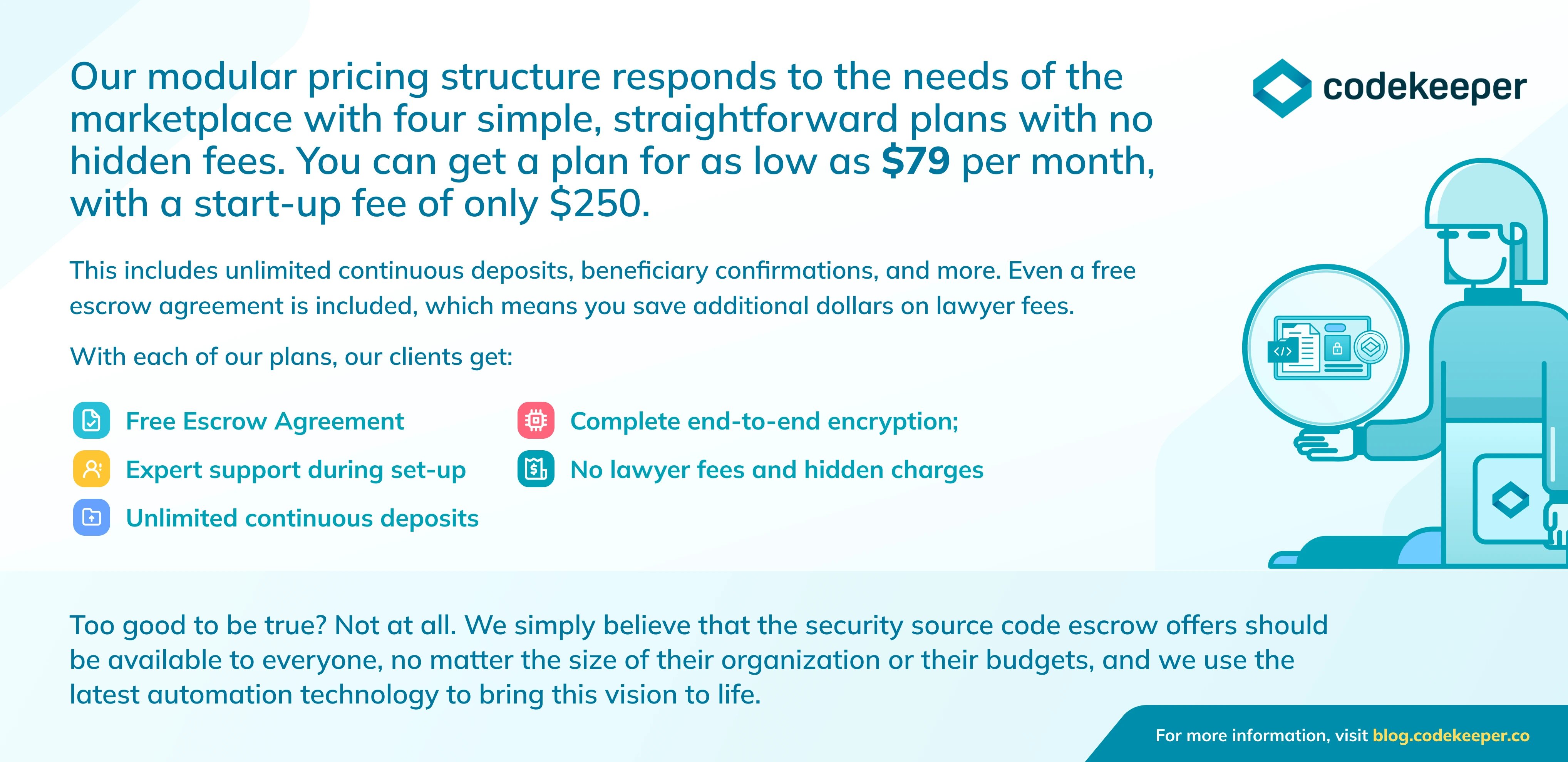 ---
How do we do this?
With Codekeeper, you get superior service for the best price on the market thanks to our powerful automation technology and unique operational model.
We have built fully automated integrations with development platforms like Github, Bitbucket, and AzureDevOps, so that Codekeeper integrates directly with developer workflows. And all source code escrow deposits are encrypted and fully automated.
This state-of-the-art technology allows us to reach top-level security while simultaneously working efficiently and cost-effectively.
---
The Codekeeper Best Price Guarantee
Send us your existing deal and we'll make you a better, more cost-effective offer that's fully tailored to your unique needs. We guarantee that we will offer you a lower price for the same and comparable services. And in the unlikely case that we cannot offer you a lower price, we will ensure that you are getting more value for that same low price.
With the right knowledge and dedicated expert support, it's easy to structure an effective software escrow that provides meaningful protection to the licensee without undue risk or burden on the licensor.