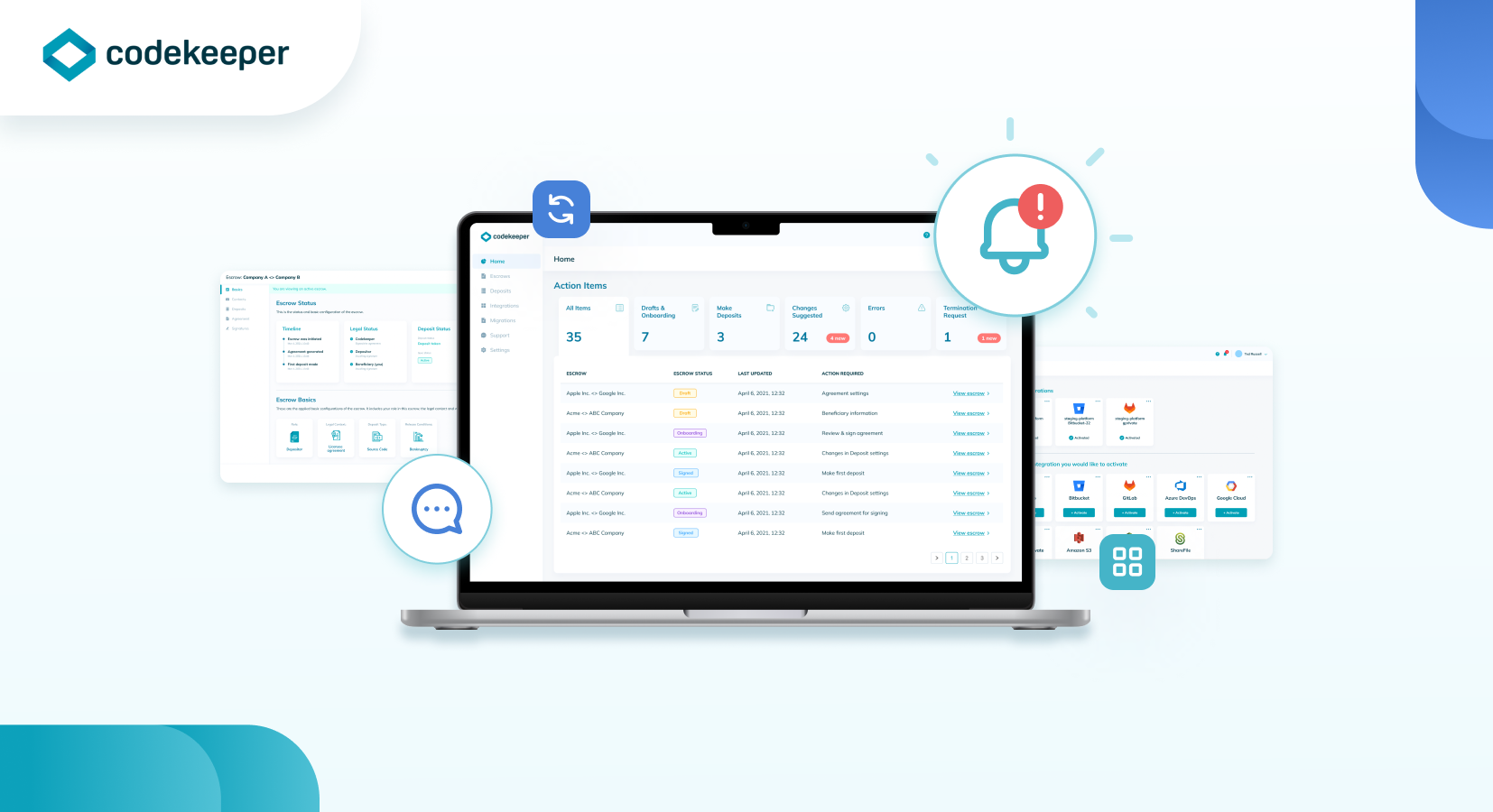 Written by Jo Rust | Published on January 11, 2023
A new year usually brings about a 'season of change'. New year, new you! Although we can assure you that we aim to continue as the market leader in providing software escrow services, we do have some exciting news.

Our team of highly skilled professionals has been working tirelessly to create the most technologically advanced and user-friendly Codekeeper app to date, and we aim to launch it this summer! The aim of this new app launch is to provide our clients with seamless integrations and superior customer service.


How do our services differ from other software escrow companies? Here's a sneak peek at what our services include:
Unlimited, automatic deposits

Our state-of-the-art application allows for automatic escrow deposits with immediate notifications of updates and access to your escrow 24/7/365.



A clear path to recovery

In previous years old school solutions were not equipped with a clear plan for recovery strategies. We provide you with 24/7 support and recovery assistance to help protect your business continuity in the event of a disaster.



A solid customizable escrow agreement

Our multi-layered dashboard design provides you with a sleek and easy-to-use portal that allows you to configure your settings and customize your

software escrow agreement

according to your individual needs.



Designed for continuity with a SaaS option included

Eliminate 3rd party risks with

SaaS escrow

for business continuity.



Full legal support

Our team of specialists will provide you with the legal support you need in both setting up your escrow agreement, negotiating release terms and mediation when a release event occurs. No need for expensive lawyers.



Fully automated integrations

Our extensive integrations library allows for integration with over 50 different depositing platforms for your convenience.



Best prices guaranteed

We saved the best for last - we offer the best prices in the market, guaranteed! There is no other

software escrow agent

who can outdo our prices and service delivery. With us, you are guaranteed the absolute best value for money.
---
---
We pride ourselves in upholding the highest standards in escrow services delivery and provide you with a promise that we'll always be here to help support your individual needs.


For more information or to schedule a no-strings-attached call with one of our specialists just click on the button below.
---